Who is your favorite tennis player
Discover the fashion label 30 Love with us
New brands with fantastic founders inspire me. Even more so when a Berlin woman founds a new fashion label and thus wants to occupy a very specific niche in the large shark pool of the tennis clothing industry. We introduce you today Andrea Tübbicke-Schmidt before that a year ago Fashion label 30 Love founded. Matching and fresh Feel Good tennis fashion for the tennis player over 30. We'll tell you why the market needs this and what's behind the founder.
Do women over 30 actually need special tennis clothing or why not every woman wants to wear a tennis catsuit
Not only since the tennis clothing discussion that broke out around Serena Williams "catsuit" at the Australian Open has many tennis players been asked where to look for a "suitable" tennis outfit. Tennis clothes from the current clothing manufacturers are no longer ideal and suitable for many tennis players, especially at a somewhat "advanced" age. Be it the cut or the color and fabric combinations. Too short, too narrow, too much color box - the frustration when shopping sometimes spoils the shopping experience for one or the other tennis traveler.
It is all the more refreshing when a young entrepreneur sets up a new clothing brand and wants to make the "Over Thirties" shine with matching, well-fitting tennis clothing. The motto is feel good over thirties. That's why we're introducing you today to Andrea Tübbicke-Schmidt and her fashion label 30 Love - as always with questions that aren't off the shelf either.


Andrea, please introduce yourself briefly
I am 36 years old and live in Berlin with my husband Peter and my little daughter Annabelle. And I'm the founder of "30 Love".
How did you come up with the idea of ​​founding a special fashion label for tennis players?
I have noticed for myself how difficult it is to find nice tennis clothes in which I feel "dressed" and comfortable. When I asked around my circle of friends, I got similar feedback. And then I thought: I can do something positive for women's tennis here and have launched "30 Love".
What is the most annoying thing about the tennis fashion of the well-known brands?
It bothers me that the skirts are so outrageously short. In the office, in everyday life or in other sports, I would never think of wearing skirts like this.
And in the tops, too, I often felt constricted and thought I'd better pull in my stomach. I always felt like I had to constantly tug on my clothes to make them fit. And when I hit I was afraid that I would suddenly be standing in the open.
And how does that affect you on the pitch?
When I'm on the tennis court, I want to have fun and really work off. Unfortunately, that doesn't work if these negative thoughts keep circulating in me. And since I'm still ambitious, I want to play my best tennis. But that doesn't work either when thoughts about my appearance rob me of my concentration.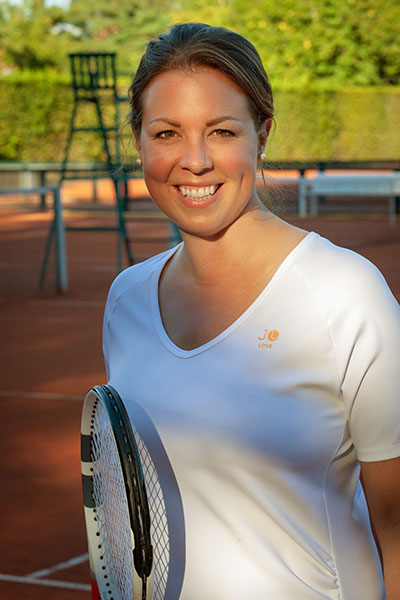 Andrea, founder of 30 Love
What can women expect from 30 Love tennis fashion?
Imagine, you can just be who you are on the pitch. You don't have to be afraid of showing more skin than you'd like. Nothing pinches and nips, nothing rubs. You finally feel free. How good would it be if you just effortlessly look good in your tennis outfit? Negative thoughts about your body disappear? Just think how nice it would be if you were much more self-confident and the others could feel it too - on and off the pitch? And you play even better by the way? This is exactly what tennis ladies can expect! Or as the fashion designer Yves Saint-Laurent put it: "Good clothing is a passport for happiness."
Do you think that your tennis clothes have a positive influence on the performance of the "wearers" on the court?
Yes, I am sure of that. There is also research on this. Studies show that our clothes not only have a major impact on our mood, but also on our performance. The social psychologist Barbara Fredrickson from the University of North Carolina carried out an experiment: she had women and men take a math test. Half of the participants should wear a swimsuit or swimming trunks, the other half a sweatshirt.
The result: Those women who wore a swimsuit during a math test performed significantly worse than those who wore a sweatshirt. The researchers were able to show that when their bodies are on display, women worry too much about what other people think of them and cannot concentrate so well on the actual task. As a result, performance suffers. For men, on the other hand, clothing had no effect on their performance.
In another study, psychologists from the University of Toronto found that women in loose sports outfits achieved significantly better results than women in tight-fitting clothing in tests, among other things, on hand-eye coordination. The reason was the same here too. This is why "dress for success" also applies on the tennis court.
Which characteristics of the 30 Love clothing mean that women can concentrate fully on their game?
The 30 Love clothing is designed in such a way that it does not stick to the body, but falls beautifully, figure-flattering and loosely. Our skirts, dresses and shorts have an optimal, moderate length - not too short, but also not too long to look old-fashioned - just right. In addition, you will be supported in the right places, e.g. by the wide high waistband or the sewn-in shorts. In a nutshell: You can be sure that you will cut a good figure on the pitch in 30 Love. You don't have to worry about that any further. Your focus can therefore be completely where it belongs: on the next ball.
Which is your absolute favorite piece?
My favorite piece from the current collection is the "Gabriela" dress. It falls just beautifully and makes an incredibly great figure. In combination with the "Anke" shorts, I find it unbeatable.
What is your production process like? Who designs, who looks for fabrics where, where is production?
I design myself and my pattern maker Ines then helps me to convert my ideas and sketches into sample parts and cuts. I had very special ideas for the material. It should be very elastic and feel like a second skin. It wasn't that easy to find something like that. I've attended several fabric fairs and combed through all the offers. I then found my dream fabric at an Italian supplier, from which the entire collection was made in a textile factory in the Ore Mountains. I print the logos and washing labels on the clothes myself. I also do the packing and shipping myself. Production in Germany is very important to me - here too I would like to deliberately do it differently than the big brands.
What was the absolute high, the most positive surprise and the absolute low when you founded your company, i.e. just before the worst-case scenario?
The low point was clearly the first lockdown in March 2020. Exactly when my material was about to be produced, all of Italy was shut down. I didn't know if the company would survive economically and if I would ever get my fabric, which I had already paid for. In the end everything went well. I wasn't able to bring out the collection in spring as planned, but only in autumn, but at least.
It was and always is a great experience that I get a lot of support. More often than ever before, I have taken courage and actively asked people for support. And as a result, I get mostly positive feedback and real help. I am very, very grateful for that.
Describe the feeling when you held the first 30 Love piece in your hands
That was just indescribable. But it was even nicer when our ladies' team tried on the finished collection for the first time. The girls, who then even made themselves available as models for the photo shoot, were thrilled and just looked incredibly good. That was the best feeling ever.
What are your plans for the brand in the medium to long term?
30 Love should remain a small, fine and independent brand. I would like to gradually bring out new colors and new pieces that harmonize perfectly with the existing collection. My goal is for my customers to have some of your 30 Love pieces for a long time and to be able to combine them again and again - like a good business outfit. I am happy when word gets around that feeling good and looking good on the tennis court is no longer a contradiction in terms and that 30 Love is becoming the tennis ladies' favorite brand.
Briefly about your tennis career: what did it look like, what sporting successes did you have? How often do you play today
As a teenager I played a lot and was able to celebrate a few successes like winning the Berlin and East German championships. When I started my job, tennis took a back seat and I took a longer break. I picked up the bat for the first time two years ago. After the messed up winter, I'm really looking forward to the summer season and I'm trying to make myself fit for it.
Do you have a favorite tennis hotel, a place you long for when it comes to tennis, where you would love to pitch your clothes?
I'm a huge Miami Beach fan. On my first visit, I was 16 years old when we were allowed to prepare for the season in Florida with the first men's and women's team of our tennis club. Since then, I've been drawn to Miami Beach again and again.
Is there anything else you would like to tell our female tennis travelers?
I am particularly interested in your experiences with tennis clothing? Is it easy for you to find nice clothes? What could be better? What would you want from your clothes? I am very happy if you visit www.30love.de and give me your feedback.