Is it worth studying fashion design
What job opportunities do you have as a fashion designer?
If you invest a lot of money and time in studying fashion design, you want to be reasonably sure that you will have decent job prospects afterwards. Since the world of fashion is very attractive to many, the competition for the prestigious jobs is fierce. But above all, you determine yourself what chances you have after graduation.
The idea of ​​designing clothes that correspond to one's own opinion and thus also shape the environment is tempting. Every year, thousands of young people are interested in studying or training in fashion design. But only a handful make it to the big dream of a successful brand and a life between the catwalk and the studio. But that does not mean that the others are not successful, because there are still numerous other job opportunities for fashion designers.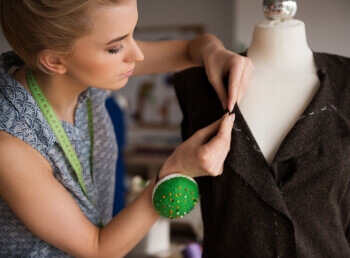 The title "fashion designer" is not protected. So everyone can call themselves that, even if he has not completed any serious training at a fashion school or university. If you want to make your job prospects as positive as possible, you first need a well-founded one Fashion design trainingor a Fashion design studies. Nora Kühner, managing director of the Association of German Fashion and Textile Designers, advises that an apprenticeship as a tailor prior to the design apprenticeship cannot hurt. Those who meet these requirements have already left some competitors for good fashion design jobs behind.
But there is a lot more that matters. The best chances are those who can think quickly, are creative and, above all, complete numerous internships at home and abroad during their studies and have suitable student part-time jobs. Of course it's very exhausting and the semester break has little to do with vacation, but you lay important foundations for starting your career.
You should also look for realistic career opportunities. Very few graduates of a fashion design degree later work as independent designers. And then usually not with a large income. A study by the Berlin Senate found that 18% of self-employed fashion designers have enough income to make a modest living. 42% even state that their income is insufficient.
This is where the job prospects as an employed fashion designer come into play. Few of them start studying fashion design with the dream of working in an industrial company, but these companies offer the most jobs and job opportunities. The spectrum ranges from large chains such as ZARA and Esprit to no-name manufacturers.
It doesn't always have to be the design
Many fashion designers are also looking for their opportunities in related professional fields. We have put together a few examples from the Xing career network. Here you can see the various options you have with a fashion design degree.
Talk to fashion design students and graduates before you start your studies. This will give you a good insight into the course. It is probably more exhausting than you think before and you have to invest a lot. Not only money in the tuition fees, but also time in internships and creative development.
Those who really give gas will have good job prospects in a variety of fields of activity with a degree in fashion design. But only a few become well-known designers and stars. Silvia Schüller, lecturer at the University of the Arts in Berlin, sums it up: "The job doesn't swim towards anyone, you have to conquer it."