Melania Trump approaches refugee children
After her husband turned around in the dispute over the separation of immigrant families, First Lady Melania Trump demonstratively visited a reception center for refugee children. The minors had to get back to their families as soon as possible, she said in Texas on the border with Mexico. She had previously criticized the government's practice of imprisoning illegal immigrants and separating them from their children.
In the past few weeks, the US authorities had separated families of illegal immigrants from South and Central America. This had caused sharp protests internationally and also in the USA. Trump ended this practice on Wednesday under great pressure. With a temporary decree, he paved the way for parents and children to be imprisoned together.
Whirl around Melania's jacket
The First Lady's visit to Texas had been planned prior to the decree. A jacket by Melanie Trump, which she wore on the trip to the refugee children, caused a stir. When the 48-year-old got out of her car at Andrews Airport near Washington and walked up the gangway, she was wearing a jacket with the bold words "I really don't care - and you?" ("I really don't care - Do u?").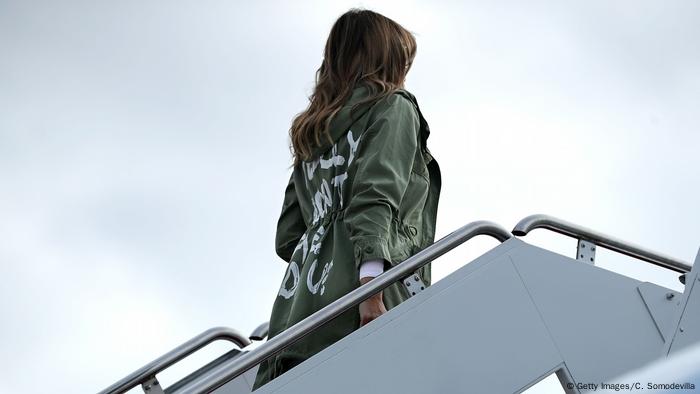 Melania Trump on the way on the plane with a jacket that causes discussion
The question arose on social media as to whether this was thoughtlessness or a message in view of the political explosiveness of the discussion about tearing refugee families apart. Trump's spokeswoman Stephanie Grisham said in Texas: "It's a jacket. There was no hidden message."
Search for compromise
Meanwhile, Washington continues to wrestle over how to deal with illegally entered migrants. The decree signed by the US President is only provisional. As the news agency AFP reported with reference to information from the ranks of the Republican Party, the House of Representatives has postponed a vote on a "compromise" bill on immigration reform. The vote was postponed one day to Friday.
Republicans have a clear majority in the Congress Chamber, but they are divided over immigration reform. It was therefore extremely uncertain whether the draft law, intended as a compromise between the wings, could actually win a majority. Trump called on the opposition Democrats to cooperate. He invited their representatives to the White House. "We should be able to make a law. Come over - preferably this afternoon," said Trump.
where / haz (afp, dpa)