An MBA from correspondence would actually be an advantage
Teacher training
Pedagogical colleges and universities
You can be trained as a teacher at the following colleges and universities.
You have to meet the following requirements for the teacher training course:
Proof of general university entrance qualification (Matura)

Alternatively: university entrance qualification or vocational matriculation certificate

Positive completion of the admission procedure
And for the secondary level the following also applies: For the subjects of movement and sport, you must provide evidence of physical and motor aptitude; for the subjects of art education, music education and instrumental music education, proof of artistic aptitude must be provided.
The admissions process
The admission process only takes place once a year; if you miss the deadlines, you can only register for the next year. Please note that you can register for this before you graduate from the Matura.
Carry out an online self-assessment
An online self-assessment takes place before the actual admission procedure. This is a self-assessment process that is intended to encourage people to deal more deeply with the requirements of the profession. As a rule, registration for the self-discovery process is possible from the beginning of March to mid-May.
Computer-aided personality test (secondary level)
The second stage in the admissions process is a personality test, which takes about three hours. The university will announce the exact date. The announcement of passing or failing takes place via email.
Sports supplementary examination
Anyone who chooses the subject of sport and exercise must take a three-day sport test, which consists of a basic test and a skill test and covers various types of sport.
Artistic entrance examination
Anyone wishing to teach art education must take a one-day entrance exam. A portfolio with artistic work must be submitted in advance. A conversation takes place on site and an artistic task is carried out. Anyone who wants to teach music education or instrumental education must take an exam lasting several days, which includes an aural test, music theory, sight-reading or a cadence game.
Proof of personal suitability in the following three areas by means of an interview (primary level)
For admission to the primary level teacher training course, you have to go through the following three test modules in addition to online self-assessment, electronic admission test and an interview:
Musical-rhythmic aptitude test: audition, can optionally be accompanied by guitar or piano.
Communication (written and oral)
Physical and motor aptitude: apparatus gymnastics, coordination exercises, etc.
Graduates of the eight-semester bachelor's degree for the primary level teaching qualification can be admitted to the master's degree.
personal requirements
Teachers do more than just teach and plan lessons. Depending on the school level, school and students, they also have to educate, advise, organize, contribute to school development, document, communicate with parents and further educate themselves. The teaching profession therefore not only requires commitment and motivation to work with students, but also many other skills. Among the most important are certainly ...
Empathy: Perceiving students with their strengths and weaknesses.
Flexibility: Lessons do not always go as planned, colleagues have to be replaced.
Communication strength: You have to communicate with students, colleagues, parents or partners outside of school.
Teamwork: Whether it is the daily arrangement for lesson planning or the organization of the class trip - those who prefer to be alone should not become a teacher.
Ability to deal with conflict and resilience: Anyone who works in a social profession must expect that interpersonal relationships can sometimes become stressful.
Organizational talent: Writing certificates, letters from parents or support plans, further correspondence with extracurricular institutions as well as planning lessons, class trips, etc. - educators must have a minimum level of self-management.
Structure and course content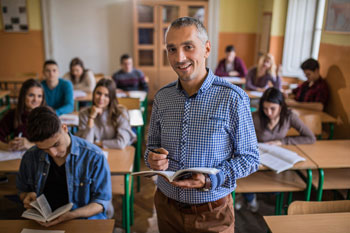 Whether it is primary or secondary level, the teaching degree is always divided into a bachelor's and master's degree. There are, however, significant differences in terms of the content of the studies.
Primary level
The teacher training course for the primary level deals with general educational science basics, elementary and primary level pedagogy and didactics as well as a self-selected focus.
Focus
The focus is studied from the fifth semester. You can choose between two small or one large focus.
Major focal points can be:
Elementary education
Inclusive pedagogy
Language education
Mathematical, scientific and technical education
Social and cultural science education
Small focal points can be:
Not all areas of specialization are offered by every teacher training college.
Secondary school
During the teacher training course for the secondary level, you will receive fundamental technical, didactic, general educational and pedagogical-practical training. You can choose between two subjects or one subject with a specialization.
Choice of subjects & specializations
You can choose from over 20 different subjects and combine them. Whether biology and environmental studies, history, social studies and political education, Italian, English, religion or German - you can freely choose two subjects from the humanities, natural sciences, art and other areas.

The subject of instrumental music education can only be studied in connection with music education. The subject of music education, on the other hand, can be combined with any subject.
Specializations
Specializations are also available to you. Which subjects are offered depends on the university / college of education and which association it belongs to. If your desired subject is not offered at the preferred university, you usually have the option of taking this subject at another university in order to meet your desired combination.
Possible specializations are:
Note: Not every specialization is offered by every university.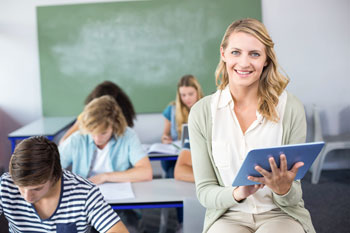 With the teacher training course you become a teacher, of course. The career path is therefore predetermined long before graduation. This can be an advantage when you consider that even shortly before the end of their studies, many university graduates do not yet know which jobs they actually want to apply for. This question and job search are spared with a teacher training course. One disadvantage, of course, is that you are less free - the path is predetermined.
However, educators are not only needed in schools. So if you want to turn around again, you will also find career opportunities in the areas of adult education, with publishers and media companies with an educational focus, in the public service, in political education or in social affairs. Depending on which subject you have studied, there are even more options.
What are the career prospects?
The need for teachers is high, so the prospects are initially very positive. However, this varies depending on the subject. If you are unsure whether your desired subjects are in demand or overrun, contact the relevant state school authority. She can give you more information.
salary
As a teacher, your salary is regulated by public law. On average, Austrian teachers earn a little over 51,000 euros gross. The exact salary depends, among other things, on the school level and the years of service. You can see the complete salary table on the website of the Austrian Teachers Initiative - Independent Trade Unionists.